Oseh Shalom
2008 – for SATB Chorus and String Orchestra (9:00)
---
PERUSAL SCORE
Oseh Shalom (Piano reduction; full score available on request)
---
CLICK TO LISTEN

The Harvard-Radcliffe Collegium Musicum; Jameson Marvin, conductor
---
NOTE
Oseh Shalom Bimromav was written for Jameson Marvin and the Harvard-Radcliffe Collegium Musicum, which I had the privilege of singing in from 2005 to 2009. It received its first performance in March 2009 at Sanders Theatre in Cambridge, MA, and in May 2009 it was awarded the Francis Boott Prize as the best choral composition written that year at Harvard University.
The text for Oseh Shalom Bimromav is a well-known Hebrew prayer from the Jewish liturgy. It is recited in several different places during a typical Shabbat (Sabbath) service, but it most poignantly concludes the Mourner's Kaddish, a prayer used for remembrance of those who have passed on or are in need. The text is often heard in the context of an upbeat klezmer tune, especially during the "hora" dance at weddings, but in this setting I wanted to explore a more mournful, somber understanding of the text.
---
TEXT AND TRANSLATION
Oseh shalom bimromav
Hu ya'aseh shalom aleinu
V'al kol Yisrael
V'imru Amen.
(from the Hebrew liturgy)
He who makes peace in high places,
He will make peace for us
And for all Israel
And let us say, Amen.
(translation by the composer)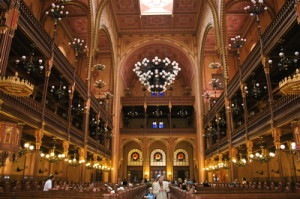 ---
PREMIERE
March 2009
Sanders Theatre, Cambridge, Massachusetts
The Harvard-Radcliffe Collegium Musicum; Jameson Marvin, conductor
---
HONORS
Winner of the 2013 Berkeley Community Chorus and Orchestra Young Composer Competition
Winner of the 2009 Francis Boott Prize at Harvard
---
Copyright 2013-22 by Michael Schachter. michael.schachter [at] gmail.com